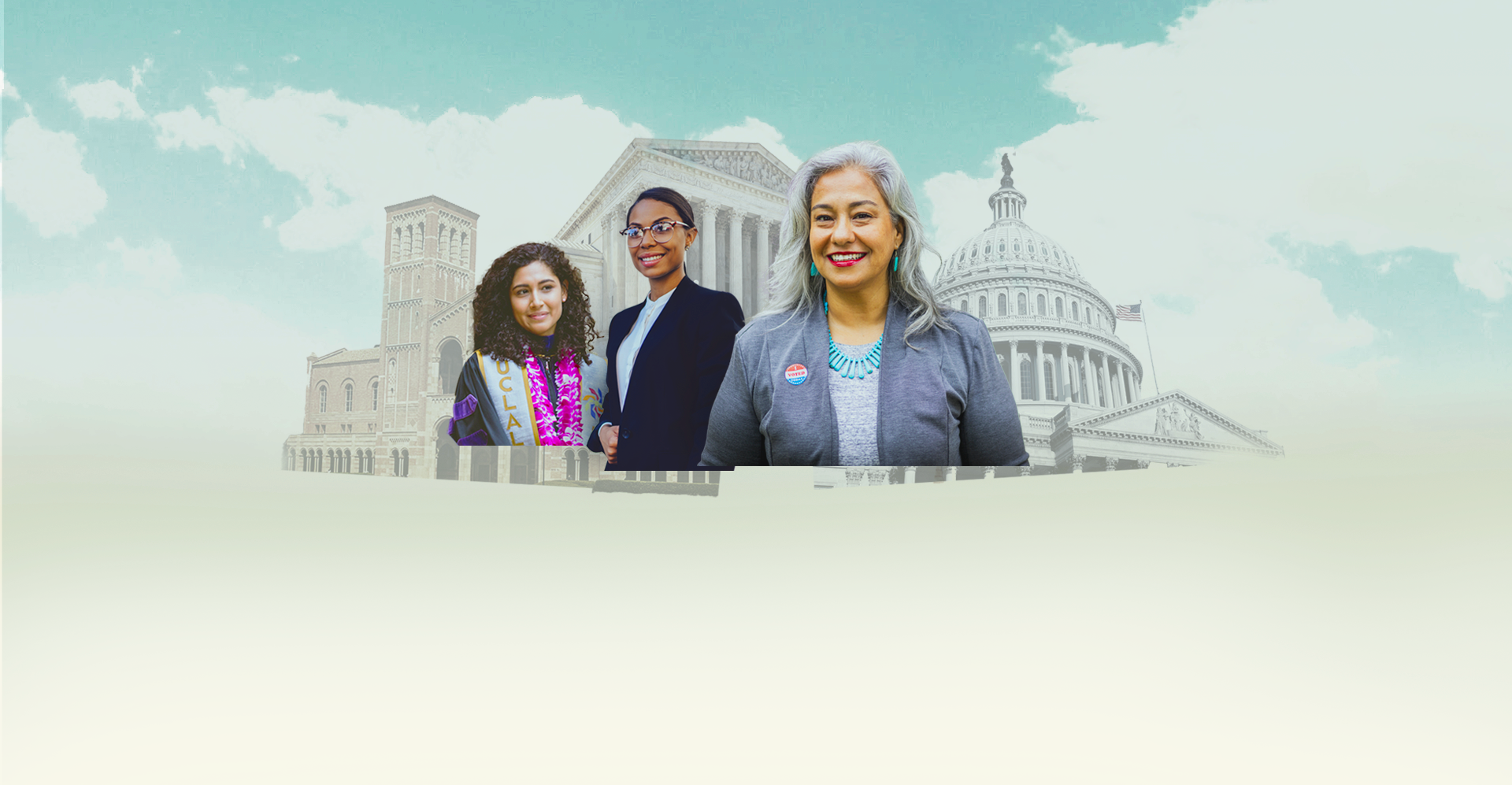 Leading the way for Latina lawyers to advance justice and dignity for all.
Latina Futures: Transforming the Nation Through Law & Policy is a one-and-a-half-day symposium at the world-class UCLA Luskin Conference Center featuring prominent Latina scholars, attorneys, policy leaders, and law students from across the country to foster a multi-generational leadership pipeline that spotlights today's 21st-century legal challenges and opportunities with a Latina lens.
Taking place during a consequential year in U.S. politics and anchored by the significant contributions of the nation's Latina attorneys, the symposium will light the way to achieve economic, social, and political parity for all Americans.
The need for Latina Leadership in law and policy is acute. By 2050, Latinas are expected to make up 13% of the U.S. population, account for 11% of the labor force, and have a median age of 11 years younger than their non-Hispanic white counterparts. Yet, Latinas comprise only 2.5% of all U.S. lawyers, account for less than 1% of all partners in U.S. law firms, and have never served on the highest court in 44 states. Weaving together oral histories, legal research, and the practice of law, the symposium will create interest convergence across sectors and generations to increase the power and influence of Latina lawyers now and well into the future.
Symposium Objectives
Convene a diverse cadre of Latina leaders to detail their unique experiences in American jurisprudence and share unparalleled personal insights with the generations of Latina lawyers and law students following in their path.
Shine a light on the economic, political, and social status of Latinas in the U.S. through substantive Continuing Legal Education panels that center the Latina experience in the context of today's most pressing law and policy debates from reproductive justice to affirmative action to economic justice, paving the way for informed discussions in the landscape of the 2024 election and beyond.
Cultivate a multi-generational, cross-sectoral, and geographically diverse cadre of Latina leaders to foster a dynamic pipeline that will promote the success of Latinas across important democratic institutions from state capitols to the ivory tower and corporate boardroom.
Symposium Speakers
Carmen Espinosa
Hispanic Justice
Patricia C. Medina
Executive Director
Fabiola Carrion
Director of Reproductive Health
Josefina F. Morales
PhD Fellow
Laura C. Moreno
Assistant Professor
Laura E. Gomez
Professor of Law
Liliana Garces
Professor, Department of Educational Leadership and Policy
Lorena G. Fletcher
Executive Secretary Treasurer
Lourdes M. Rosado
President & General Counsel
Maritza P. Medina
Director of Office of Federal Affairs
Rachel Moran
Professor of Law
Silvia Argueta
Executive Director
Stacy Villalobos
Director
Tania Valdez
Associate Professor of Law
Rochelle M. Garza
Professor of Law
Symposium Contributors